X-Cart Mod Recently Viewed Products: ($50.00)
Screen Shot: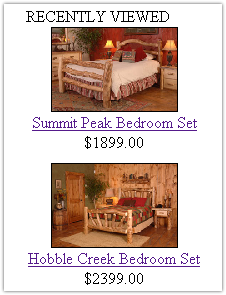 Summary:
Show recently viewed products on your X-Cart product pages. This script is easy to set up and will show the product picture, title and cost of each product that the user has looked at within this session of viewing your X-Cart Store. Similar to Amazon.com
Details:
- Price $50.00
- Comes with instructions document to setup/install.
- Works in both PHP catalog format and HTML catalog format.
- Displays picture of product, product title, price, and links to the actual item.
- Programmed in JavaScript and uses cookies/sessions (as well as PHP Smarty).
- Setup/install requires you to edit X-Cart using the template editor.
- No support comes with this product.
- After payment you will be email a zip file with everything you need.
- Should only take a few minutes to setup.
Demo:
- No demo is available. (
screen shot
)
- Website's using it:
Note: On their websites: make sure to view some product and look on the left side bar to see recently viewed. Also these are not my websites.
www.1cabinfurniture.com
www.thetwistedtimber.com
What do you need:
- X-Cart (almost any version)
- Be able to Copy & Pasting (coping and pasting into files using X-Cart Template Editor).
- Be able to do some minor X-Cart editing using the template editor (open files in it and paste into and save file).
- Have FTP access to your website (may not need this - you may be able to use X-Cart Template Editor to upload).

($50.00)
All users of this website must read and agree to
terms
or you must immediately leave and remove all content from the website from your computer.
© 2007 Sean Gallagher www.ProfessionalMonster.com